M&G
:: MEAN AND GREEN FEBUARY 2012 OFFERS ::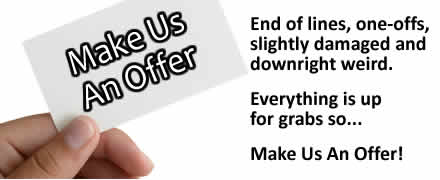 Mean & Green, are at it again bringing you more great deals!
After a mild winter so far, a cold snap has finally arrived and it looks set to stay for a while.
Don't worry, M&G have got you covered from head to toe with the best-selling winter warmers.
Have you made us an offer yet? This is where YOU get to set the price you pay.
You'll find some end of lines, one-offs, rare collectibles, slightly damaged and downright weird items here.
For further information on the latest offers and products added, please read our new shop article here at:
http://www.militaryforums.co.uk/shop-me ... offers.php
Army Surplus
gear never goes out of fashion. And if you're serving in the military then our British Army & Navy surplus clothing is exactly what you need. In case you don't know, "Army Surplus" refers to any clothing or equipment produced by the military which is now surplus to requirements. That's when army surplus stores then sell it on to the public. We have a wide range of military gear including camouflage combat trousers, army uniforms, US fishtail parkas, Alpha Industries flight jackets, Arktis gear, Soldier 95 kit for cadets and even Dr Martens boots.
MONEY BACK GURANTEE

-

FLAT RATE £3.95 DELIVERY

-

100% SECURE SHOPPING
We are your one stop British army surplus store for all army, military and camouflage gear. Combat trousers, army jacket, soldier 95 kit, Dr Martens, Lowa, Silva, mag lite, gerber, viper, web-tex, ka-bar, snugpak softie, webtex, arktis, leatherman, camelbak, alpha industries, nite watches, g10, ushanka, cossack hat, ma1 flight jacket, m65 field jacket, fishtail parka, beanie hat, stab and bullet proof vest, assault boots, webbing set, knives, swords, torches, kids camouflage clothing, stealth cameras, monkey boots, Doc Martins, cadet uniform, bush hat, balaclava, helmet, sas smock, para smock, great coat, pea coat, parka, german, french, dutch, british, american, badges, t-shirts, steel toe boots, Blackhawk tactical gear, 5.11 Tactical.