Sgt James Rea RM22554 1963- 1972.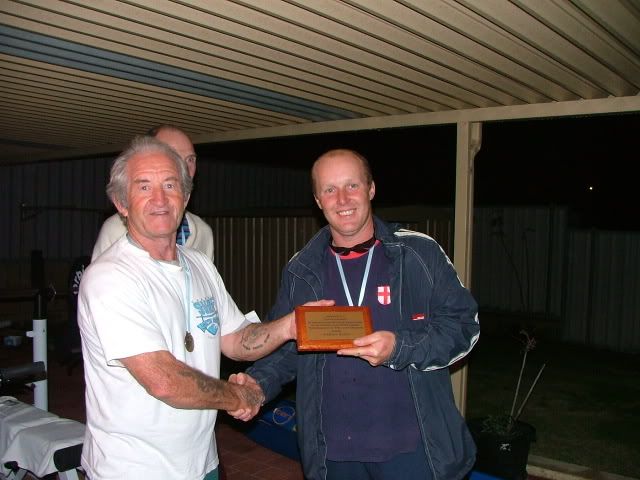 Jim Rea presenting a canoeing award to former 3 Para, Jase Swales on the completion of the two day Avon Descent Canoe Race.
It is my sad duty to report the passing of former Sgt Jimmy Rea today 4th May.
Jimmy passed over the bar,doing what he loved most.
Out on the Canning river in Perth Western Australia, in his canoe in the company of friends from the RMA and Airborne Forces, when he suffered a fatal heart attack.
Jim hailed from Mitchelstown county Tipperary and joined the Corps in 1963 after serving nine years in the Irish Army including a short spell with the UN in the Congo. Serving overseas in Aden and Singapore, Jim was a keen member of PT Branch where he excelled at martial arts and particularly judo.
Jimmy emigrated to Western Australia with his wife Jenny, former RM WREN, in 1973 where he eventually re-established his association with the Corps via RMA.
Jim was a keen advocate of the active lifestyle and would organise abseiling, canoeing or thirty milers for the benefit of not just our Members but their families as well. And it is in this context that Jimmy will be sorely missed. He was a surrogate uncle/grandad to scores of children over the past thirty years and was never happier than when he was giving detailed instruction on bush survival to some wide-eyed six year old. A natural teacher, Jim had the rare ability to transform the mundane into the wondrous and he would always hold his young audience spellbound (and quite a few Bootys as well!).
An absolute privilege to call him a friend, his passing is keenly felt by the many who share that privilege.
RMA WA offer our deepest condolences and warmest support to Jenny, Michael and Steven and the rest of Jim`s family back in Ireland at this sad time.
Rest Easy, Jim