Major Roy Farran, DSO, MC two bars, Legion of Merit (USA), Chevalier de la Legion d'Honneur (FR.), Officier de la Legion d'Honneur(FR.), Croix de Guerre(FR.), Star of the Garibaldi (IT.) passed away peacefully on Friday June 02, 2006 - 22:00hrs local time at Calgary Alberta Canada after a long battle. He was 85 years old. His Family was at his side.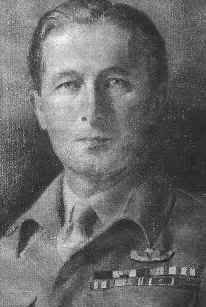 Roy Farran was born in England in 1921, attended school in India, and after service in the Second World War retired to Calgary (at the age of 31) to raise cattle. His Second World War exploits could (and have) fill volumes; Farran served in the Special Air Service. He first saw action in North Africa with the 3rd Hussars before joining the SAS, commanding a troop of tanks. Farran was moved to Crete where he was wounded in action and taken prisoner. After recuperating in a Greek hospital, Farran escaped by boat and was adrift for nine days before being rescued by a British destroyer. As an SAS officer, he led many raids behind enemy lines, large and small, and was highly decorated.
He remained in the SAS after World War Two but was wrongfully accused of the murder of a 16 year-old Jewish terrorist in Palestine while serving there. A mail bomb sent to "R. Farran" at his mother's home killed his brother Rex. The episode lead to his decision to leave the Army and move to Canada.
Once in Calgary, Farran founded the North Hill News in 1954, and served as a City of Calgary alderman between 1961 and 1971. Later elected a Member of the Legislative Assembly of Alberta, he served as Solicitor General from 1975 to 1979.
Roy Farran was a prolific writer whose works included "Winged Dagger - Adventures on Special Service (1948 - a long, long time before MacNab and DLB), Jungle Chase, The Day After Tomorrow, Never Had a Chance, The Search, and Operation Tombola. He also privately published a history (1921-1954) of my own unit in 1954.
I last saw him to say "hello" to with his son at one of our Mess dinners last April ('05). He was looking frail, then. The year before, I was sitting opposite and two seats down from him on one of the legs at a dinner. One of the old Regimental vets, a long-time friend of Roy's leaned over during the conversation and handed Roy a napkin with the words "You are surrounded by Masons" written on it. This was a friendly dig at Roy who was a member of the Order of the Knight's of Colombus - a Catholic institution, traditionally at "philosophical" odds with Freemasonry. Roy read it and a faint smile appeared. The napkin came back with the words, "That's nothing. I've been surrounded by Germans." He aluded, of course, to his capture and subsequent escape on Crete. The napkin had been a kindness by his friend as Roy had problems talking in his final years due to a permanent trache. In fact, the napkin had become a quiet trademark for him at such events. While he enjoyed the company of old soldiers, he successfully tuned out the tepid (and often lengthy) speaches frequently offered at such agtherings, choosing instead to "doodle" on a napkin. Roy's "doodles", however, were in fact beautiful drawings. I once picked one up after he left - a wonderful picture of a racehorse in full gallop. I have it to this day.
Roy's funeral will be at 10:00 hrs, 12 June 2006, at St. Anthony's Catholic Church, 5340 Fort Street S.W., Calgary, AB.
Sir, for all that you did for us, known and unknown, thank you! May God grant you eternal rest.